Before leading clients in meditation, you need training
Professionals in the education, therapy, and healing arts industries are being encouraged to lead their clients in meditation. And even if you are from another profession or aspect of life, you could still very much enjoy becoming a meditation teacher! Yet, there are safety considerations and faith-based concerns to study before you start offering public meditations. Meditation teachers must have a broad knowledge base when offering their clients meditation skills training.
Mindful Boston offers a teacher training pathway that includes an immersion in safe and effective practices.
As an enrolled trainee, you are allowed to teach meditation to your current client base while studying under the supervision of Mindful Boston's senior teachers.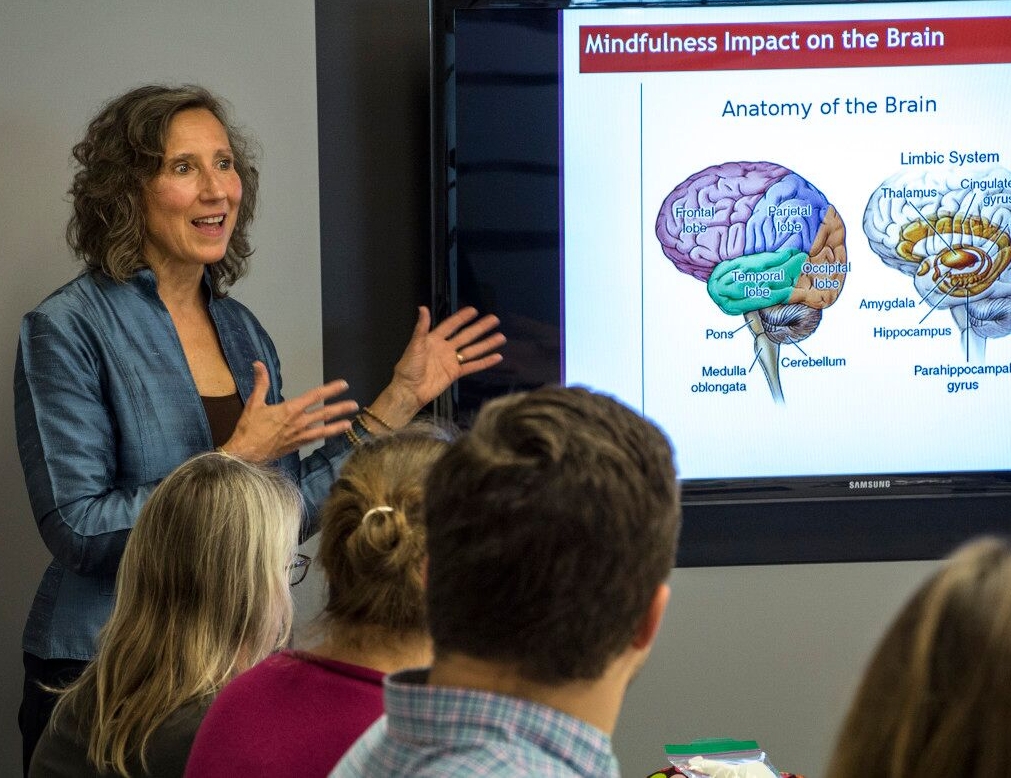 Learn the necessary skills to bring meditation to your clients
Learn the nuts and bolts of how to lead skillful and safe meditations. The Mindful Boston pathway brings you through intermediate level and towards advanced skills within a community of collaborative practitioners.
Description of the MEDITATION TEACHER TRAINING
Mindful Boston offers a foundational structure to advance your meditation leadership skills. Our training requirements support you in building an online portfolio of recorded meditations for your students. Craftsman Level and Journeyman Level teachers earn an educational badge for their resumes and can join our professional teachers' association.
Our training model is apprenticeship-based, similar to the business model of a karate dojo. We don't literally have white belt, through yellow, red, black belt... Yet in a similar way, our badged teachers prove themselves to be accomplished in teaching safe classes from a place of their own expertise. Also, similar to a karate dojo, Mindful Boston is not a religious facility. You do not need to align with any system of belief in order to learn the skills we offer.
Enrolled trainees must be disciplined and invested, living the practice of mindfulness, as they advance through the structure of our training pathway building a sustainable practice.
Teaching Levels
There are three levels of teachers at the Mindful Boston meditation studio. Craftsman Level Meditation Teachers and Journeyman Level Meditation Teachers apprentice under the supervision of our MBSR teachers.
Craftsman Level
A Craftsman Level Teacher is authorized to teach Mindful Boston's Community Meditation Night (CMN) class, and has a skill set high enough to offer CMN-quality programs at any location they go after earning a graduation badge from Mindful Boston.
A Craftsman learns by doing, building their own craft in meditation skills at the CMN practice teach classes offered to the public.
Prerequisite: take the MBSR class as a participant. See the training pathway below.
Journeyman Level
A Journeyman Level Teacher is authorized to teach Mindful Boston's Meditation Toolbox course, which is a more advanced set of skills than CMN classes. Journeymen have the authorization to use the Toolbox curriculum with any of their clients.
Additionally, their skill set has advanced to the point where they can deviate from the Toolbox curriculum whenever they need to, and develop their own creative offerings.
Prerequisite: graduate from the Craftsman program.
MBSR Teacher
Mindful Boston's MBSR teachers are authorized to teach our MBSR classes. They also mentor the lower level teachers.
MBSR teachers have received their training from the University of Massachusetts Medical School's Center for Mindfulness.
Mindful Boston's
Training Pathway
Mindful Boston is a meditation training hall with a similar business structure to a dance studio or a karate dojo. You can attend any of the foundation-building classes, and there is no obligation to continue towards advanced classes unless you want to. Of course, we would love for you to stay longer-term and earn advanced certificates. We love meditation, and want for you to advance your skills!
IF you are interested in teacher-level certifications, please look carefully at these arrow boxes in order to understand the prerequisite system. Our training pathway will bring you through intermediate skills towards teacher-level certifications.
All of these classes are offered at our Mindful Boston studio locations. Depending on the year and rental logistics, classes are either in Boston or Cambridge, always subway (T) accessible.